Transportation
Campus Shuttles, Public Transportation
The LBCC Strong Beach Bus Pass Pilot Program offers all currently enrolled students the opportunity to receive a free LA Metro GoPass. Students will be able to use this pass to access:
Long Beach Transit
LA Metro Bus, Rapid, Liner, and Rail Services
Culver CityBus
Foothill Transit
Gardena Transit (GTrans)
Montebello Bus
Norwalk Transit
Santa Monica Big Blue Bus
Torrance Transit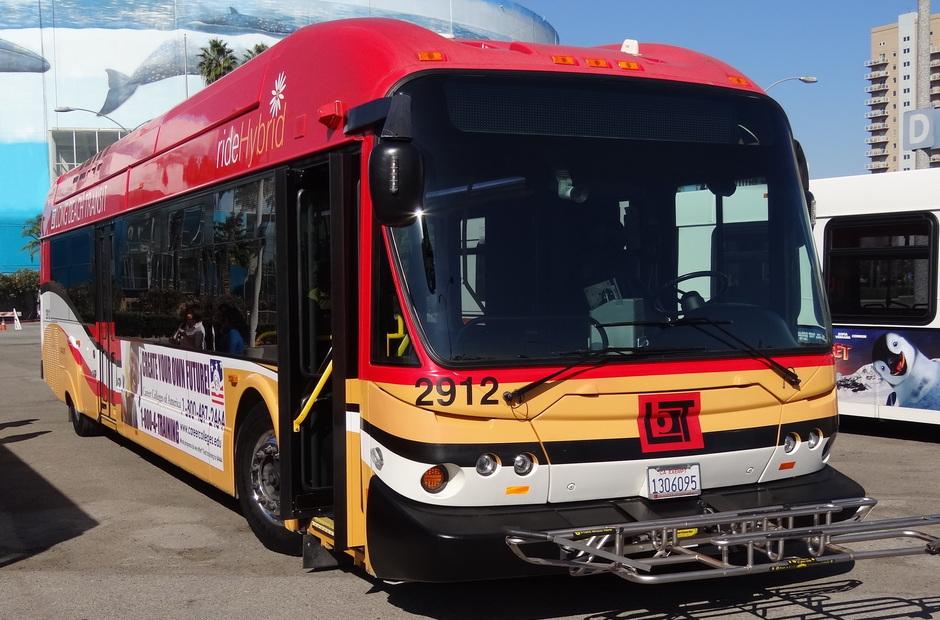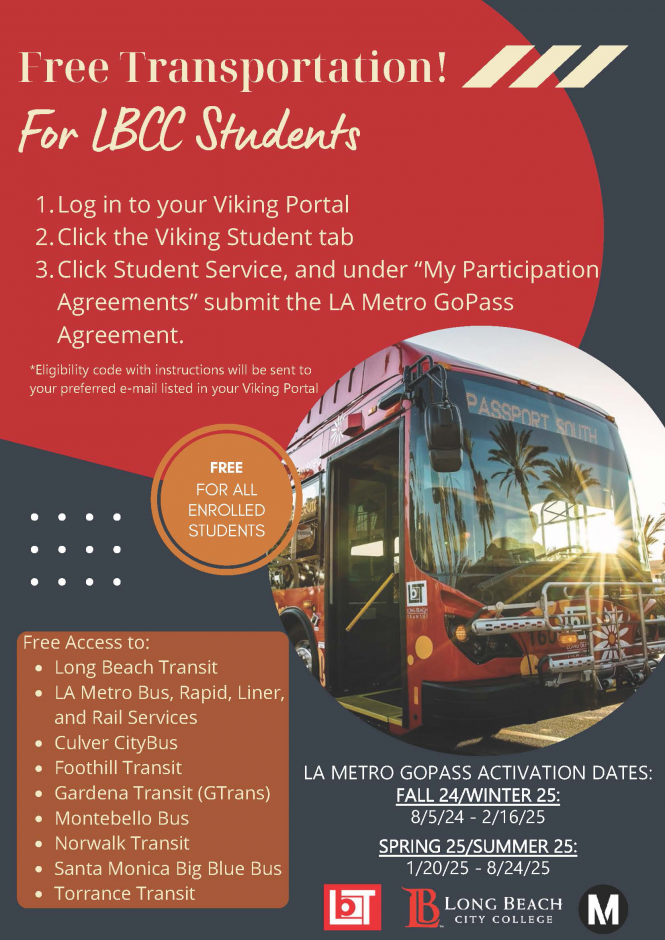 Eligibility
The only criteria are that a student is enrolled in the current term (including for example full-time, part-time, in-person, online, credit/non-credit, and dual-enrollment students).
For students to receive the free LA Metro GoPass:
Log in to your Viking Portal
Click the Viking Student Systems tab
Click Student Services, and under "My Participation Agreements" submit the GoPass Transportation Agreement.
Bus passes will be sent by mail and delivered to your address listed in your Viking Portal within 10-14 days after submission of your agreement. IT IS VERY IMPORTANT THAT YOUR ADDRESS IN THE VIKING PORTAL IS CORRECT. If you have concerns about not having a mailing address, please email basicneeds@lbcc.edu.
Please review the LBCC GoPass Pilot Program FAQs for more information, and if you have any additional questions you can email basicneeds@lbcc.edu with your full name, student ID, and best contact information to reach you.
Activating Your TAP Card
For step-by-step instructions on how to activate your card using your eligibility code, please click HERE.
LA Metro GoPass Activation Dates
Fall 2022: August 15, 2022 – February 20, 2023
Winter 2023: January 3, 2023 – February 20, 2023
Spring 2023: January 30, 2023 – August 27, 2023
Summer 2023: May 15, 2023 – August 27, 2023
We thank our partners at Long Beach Transit and LA Metro for working together to expand LBCC's "Strong Beach" Bus Pass Pilot Program and are grateful for the LBCCD Board of Trustees' leadership in prioritizing transportation access for students. We are excited about this opportunity to help support student success at LBCC.
LBCC Viking Shuttle
The Viking Voyager, campus shuttle, runs between LAC and PCC during the Fall and Spring terms only. The shuttle will begin operating again for Fall 2022 on August 29. The shuttle schedule can be found as a PDF under Related Links.
You may also download "Ride Systems" from the app stores for Apple and Android to see a detailed route and anticipated arrival time of the shuttle at each stop.
Be sure to select Long Beach City College.
Long Beach Transit
For help planning the best route for your trip, you can visit the LBT Trip Planner or download the Moovit app on your phone.
You can also view bus stop locations near LAC and PCC and the routes at each stop.
Orange County Transportation Authority
If you are traveling from Orange County, LBCC students can take advantage of the available OCTA student discounts. Download the OC Bus Mobile app to plan your trip and pay bus fares using your phone.
Los Angeles Metro
The GoPass for LBCC students provides free access to all LA Metro Bus, Rapid, Liner, and Rail Services. The LA Metro Trip Planner is available to plan the best route to campus from your location.
Need help activating your LA Metro GoPass? Please click HERE for step-by-step instructions on how to activate your card using your eligibility code.