Port of LB Maritime Center at LBCC Recognized by U.S. Dept. of Transportation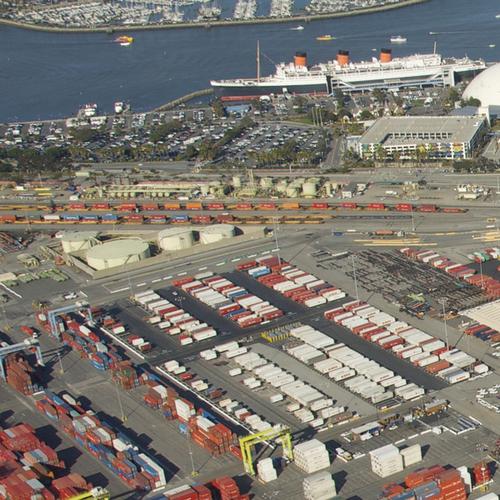 The Port of Long Beach Maritime Center of Excellence at Long Beach City College received the designation as a 2021 Center of Excellence for Domestic Maritime Workforce Training and Education (CoE) from the U.S. Department of Transportation's Maritime Administration (MARAD). LBCC is one of 27 community colleges and training institutions nationwide that prepare students for careers in the maritime industry.
With this federal designation, MARAD can now start working with LBCC to enter into cooperative agreements to help advance recruitment of students and faculty, enhance facilities, award student credit for military service, and potentially receive assistance in the form of surplus equipment or temporary use of MARAD vessels.
"The 2021 Federal Maritime Center of Excellence Designation demonstrates that Long Beach City College is leading the way in the high-skills training needed to begin and advance careers right here at the Port of Long Beach," said Long Beach Community College District Board of Trustees' President Uduak-Joe Ntuk. "For LBCC to achieve this national designation will create new pathways to good pay jobs for our students, while opening more access for diversity and inclusion within the maritime industry."
"A big reason we partnered with the excellent team at Long Beach City College on this educational initiative was to invest in the future workforce of the goods movement industry, right here in our city," said Port of Long Beach Executive Director Mario Cordero. "We're very pleased about what this federal designation says about what we've accomplished together so far, and the possibilities for the Center's future."
The designation to be named a 2021 CoE was a competitive process. Information regarding the CoE program and the application process was disseminated through Federal Register notices. Successful applicants include accredited community colleges, technical colleges, and maritime training centers under state supervision.
"Long Beach City College is pleased and honored to be included as a CoE because our goals align with the Department of Transportation's – we aim to create a well-trained work force while enhancing diversity and inclusion," said LBCCD's Interim Superintendent-President Dr. Mike Muñoz. "This federal designation is a testament to the quality and importance of this job training program at LBCC."
For additional information about the Center of Excellence for Domestic Maritime Workforce Training and Education, please visit the MARAD website.
The Port of Long Beach Maritime Center of Excellence at Long Beach City College was established in 2019 and offers short-term not-for-credit training and industry certifications. Almost 200 people have completed the program to date.
The Port of Long Beach Maritime Center of Excellence at LBCC is always seeking those interested in careers in the global logistics and supply chain industries. Costs and lengths vary for classes. For details, visit www.LBCC.edu/MaritimeCenter, call (562) 938-3248 or email wfdev@lbcc.edu.
---
About Long Beach City College
Long Beach City College consists of two campuses with an enrollment of more than 25,000 students each semester. The education program's primary purpose is to prepare students for transfer to baccalaureate-granting institutions, entry into work or career development, and to support businesses in economic development. Long Beach City College serves the cities of Long Beach, Lakewood, Signal Hill and Avalon. Long Beach City College promotes equitable student learning and achievement, academic excellence, and workforce development by delivering high-quality educational programs and support services to our diverse communities.