LBCC Dance Audition
Fall Dance Ensemble In Concert 2018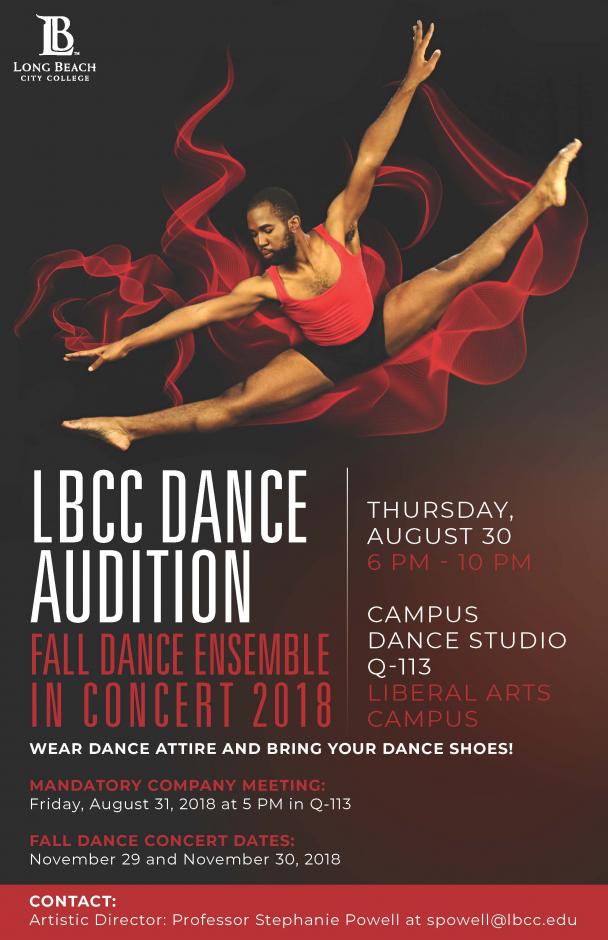 LBCC Dance Audition
Fall Dance Ensemble In Concert 2018
Thursday, August 30
6 PM – 10 PM
Campus Dance Studio Q-113
Liberal Arts Campus
Wear dance attire and bring your dance shoes!
Mandatory Company Meeting: Friday, August 31, 2018 at 5 PM in Q-113
Fall Dance Concert Dates: November 29 and November 30, 2018
Contact: Artistic Director: Professor Stephanie Powell at spowell@lbcc.edu
---
If you require accommodations, please contact the Disabled Students Programs & Services (DSPS) at least 72 hours prior to the event at (562) 938-4558 or (562) 938-4833 (TTY) or dsps-staff@lbcc.edu. If you require sign language interpreting services, please contact Stephanie Bonales at sbonales@lbcc.edu or (562) 938-4918 at least 7 days prior to the event.