Music Paaartay
Free Food at Reception Party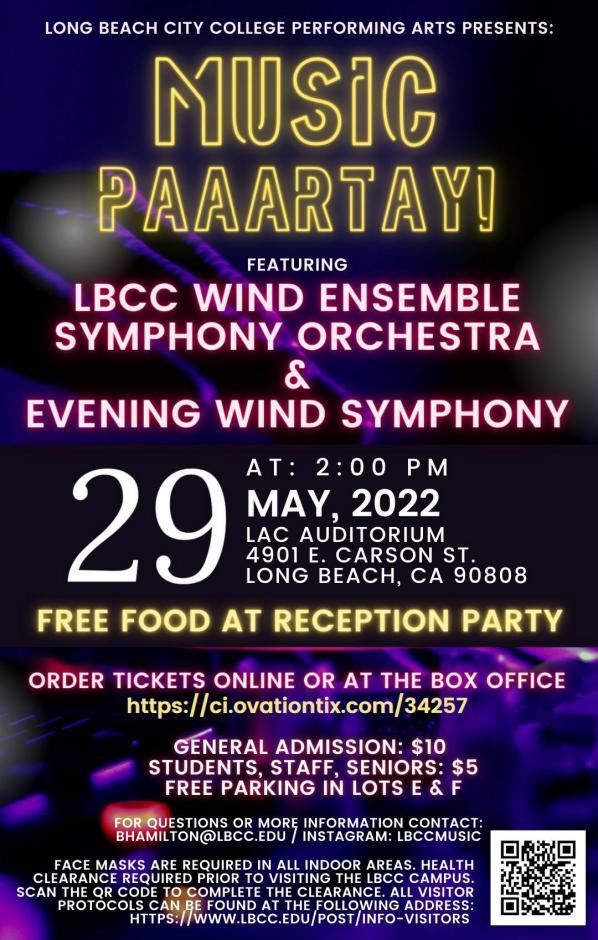 Long Beach City College Performing Arts Presents Music Paaartay, featuring LBCC Wind Ensemble Symphony Orchestra & Evening Wind Symphony.
Date: Sunday, May 29, 2022
Time: 2:00PM
Location: ​LBCC LAC Auditorium
Long Beach City College Liberal Arts Campus
4901 E. Carson St. Long Beach, CA 90808
General Admission: $10
Students, Staff and Seniors: $5
Order Tickets Online or At the Box Office
FREE PARKING in Lots E & F
Face masks are required in all indoor areas. Health clearance is required prior to visiting the LBCC Campus. For more information, visit Info for Visitors.
Event Lead – Brian Hamilton bhamilton@lbcc.edu.
---
GENERAL ANNOUNCEMENT:
Please note for Accommodations: At least 72 hours prior to the event, (562) 938-4558 (voice), (562) 353-4217 (videophone), & dsps-staff@lbcc.edu // Sign Language Interpreting, please contact Stephanie Bonales at sbonales@lbcc.edu or (562) 938-4918.
Communication Access Realtime Translation (CART) services, 5 business days prior to the event, please contact HR Analyst: Jaymee Hunt 562-938-4547 | j2hunt@lbcc.edu or Sonia Leticia Vélez 562.938.4323 | svelez@lbcc.edu. *requests are based on provider availability*