MDSC Tutoring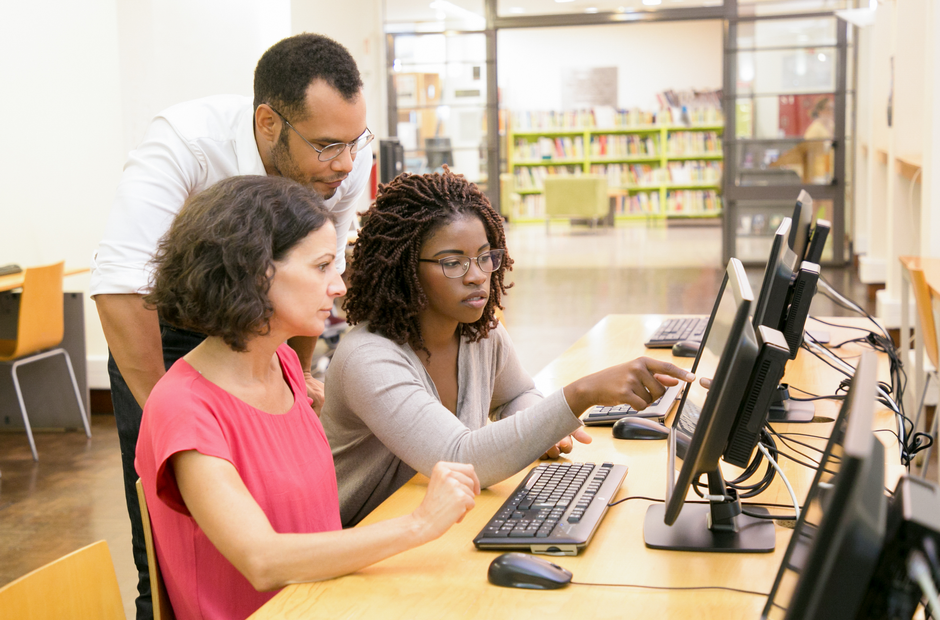 Confused about one of your classes? Need a little extra help? MDSC Tutoring is free for all students taking at least one class at LBCC. Our tutors are students who have at least a 3.0 GPA in the courses for which they tutor and are CRLA (College Reading and Learning Association) Certified. Appointments are approximately 45 minutes long. Students receiving DSPS accommodations may request up to 60-minute appointments.
To schedule your appointment, contact us at:
Students utilizing online services including tutoring are expected to follow the Netiquette Guidelines for Online Students.
MDSC Online and On Campus Tutoring Schedule
Policies & Procedures
To make an appointment for an online tutoring session please call or email the center you would like to make an appointment with.
Appointments are ~45 minutes in length. Students receiving DSPS accommodations may request up to 60 minute appointments.
After making your appointment, you will receive an email with a Zoom link to access your tutoring session.
If you need to cancel, please call or send us an email as soon as you can. This will allow us to open the slot for other students.
Students are permitted to make up to 5 appointments per week.

You cannot book more than one appointment for the same course in the day but may sign up for additional "walk-in" sessions if available. Just call the tutoring center or send an email to request additional sessions.

Tutoring sessions are recorded for quality control and training purposes only.
Preparing for Your Session
Bring any materials that will help you and your tutors, such as your textbook, syllabus, notes, handouts, and current assignments.
Make a list of questions you have about the material or need clarification on after reading your textbooks and reviewing your class notes. Highlight areas you want to review with your tutor.
Students utilizing LBCC services are expected to follow online etiquette protocols. This includes tutoring services. Please be mindful of the content on your computer screen, including tabs and bookmarks, when engaging in services where screen sharing is necessary for your tutoring experience. Students who engage in inappropriate behavior, such as screen sharing inappropriate or offensive material, or content that is not directly related to the services being provided, will be asked to remove the offending content or end the support service session. For more information, please refer to the Netiquette Guidelines for Online Students.
During Your Session
Ask for tips on how to study for the class and actively take part in the session. Once you have worked through the material with the tutor, do a practice problem on your own and explain your understanding to the tutor.
Your tutor can help clarify parts of the lecture or text, assist in solving problems, and work with you to find the answers. Your tutor cannot help with take-home exams.
Referring Students for Tutoring
Counselors and instructors may refer students for tutoring if they have identifiable learning needs by making a referral through Starfish. When a student is referred, they will be asked to be automatically enrolled in Learn 650 (Supervised Tutoring) which is a 0 unit, non-credit course.
For more information, please contact Sean Dominguez or Leslie Ortega.
Supplemental Instruction
Supplemental Instruction (SI) is a student success program that provides peer-led group study sessions for students in order to help improve their understanding of course material and increase the effectiveness of their study skills.
A trained SI Leader will support students attending all sections of the course you are applying for by facilitating SI study sessions outside of class time. These SI sessions promote collaboration and other learning techniques in order to guide students through the material presented in class.
The SI Leader will work closely with that faculty to determine content for their weekly sessions and material can be provided to the SI Leader or if the SI Leaders develop material on their own, it would be shared with and approved by the faculty member. Ideally, the faculty member would submit a recommendation for a student to be their SI Leader, but if they do not have one, we will recommend someone from our pool of possible candidates.
NOTE: students attending a class where an instructor did not request SI is still eligible to attend SI sessions for another professor if one is available.
How do I request Supplemental Instruction for my classes?
Complete the online application form. Even if you have received SI in the past, we need to have an official application on record for each term. If your course is accepted and this is your first time receiving SI, you will be asked to have a brief orientation with the SI Program Coordinator.
Embedded Tutoring
The Embedded Tutoring program in the Learning and Academic Resources Department focuses on using Tutors to provide individualized attention and assistance for students during class. (Note that support is for non-math and English/Reading courses. If interested in requesting an Embedded Tutor for your Math, English or Reading course, please contact the respective Success Center Coordinator.) Tutors can help to motivate students' participation and engagement in the classroom or lab, as well as help to provide additional support for students during activities. The Tutor works in the classroom/lab under the Instructor's guidance to help students understand course concepts. Tutors may also be available in the Tutoring Center or hold outside of class study sessions for additional support.
Tutors spend time in the classroom or lab for hands-on help
Time set aside in our Success Centers specifically for your students
A familiar face for your students seeking extra support
Someone to guide your students towards their goals
Hiring tutors recommended by YOU.
How can an Embedded Tutor assist with my online class?
During live sessions, embedded tutors can monitor and or respond to questions posted in the chat
Facilitate discussion or assist with activities during student break out sessions
Work with individual students who may require additional support
Outside of class time, embedded tutors can also assist with responding to forum discussion postings
Embedded tutors can hold weekly outside of class time study sessions or periodic exam review sessions via Zoom
How do I request Embedded Tutoring Support for my classes?
Complete the online application form. Even if you have received Embedded Tutoring support in the past, we need to have an official application on record for each term. If your course is accepted and this is your first time receiving Embedded Tutoring, you will be asked to have a brief orientation with the SI Program Coordinator and or attend a pre-semester training meeting.
Services That Can Be Requested By Students
One to One Tutoring. Tutors will be available through appointments or drop-in sessions to assist students with various subjects. Tutors may ask to meet with various faculty members to get a better idea of the topics being addressed in class or upcoming exams to better assist your students.
Group Tutoring. At students' requests, tutors may hold group sessions to support multiple students at once. For example, foreign language students studying the same language may benefit from the group tutoring format so that they can practice conversing with each other.
Tutoring Tips & Resources
Take advantage of your professor's office hours. Meet with your professor to ask questions about notes, lectures, and other course content material.
Check out free resources online such as Khan Academy, Brilliant.org, or Google for Education.
Start your own study group with fellow students in your class.
Check to see if Supplemental Instruction is available for your class.
Check out these tutoring training tutorials from Tutor Lingo. Topics that may be helpful to you include: Developing Critical Thinking Skills, Learning Theories, and Study Skills.
Become a Tutor
The Success Centers are always looking for responsible and dynamic individuals to tutor a variety of subjects. If you are interested in applying for a tutoring position, please complete the Online LBCC Tutor Application. After completing this application, we invite you to interview if you meet all the qualifications and we have an opening.
For questions about applying for or working as a Success Center tutor, please contact Sean Dominguez or Leslie Ortega.
Requirements for Becoming a Tutor
Completion of each subject you wish to tutor with an earned grade of B or higher.
Prove your status as a full-time (12 units) student if you are an undergraduate attending a community college or university, or be enrolled in at least three units if you are a graduate student or enrolled in a credential program.
Submit a completed Employment Application and Availability Schedule.
Submit a copy of your unofficial transcripts indicating completed coursework and grades.
Have an instructor in the discipline you wish to tutor complete and submit the .
Faculty may also complete the Online Academic Reference Form
Be interviewed by the appropriate Success Center supervisor.
Guidelines as a Tutor
Complete a five-week training program that will introduce you to the basic concepts of tutoring (your supervisor will explain the specific course requirements).
Submit proof of current full-time enrollment.
Complete ongoing training (in the form of an orientation or training sessions) at the specific Success Center where you are hired.
Attend regular meetings as assigned (varies by Success Center).
FOR NEW LBCC EMPLOYEES: You must fill out and submit the necessary forms for Human Resources/ Payroll, complete a TB test and possibly a LiveScan background check before you begin work.
Additional Tutoring Information
Tutors are paid $15.50 – $17.50/hr according to their experience as tutors and their conferred degree.
Tutors will be able to work for a maximum of six semesters, subject to semesterly evaluation by their supervisor.
Tutors can work a maximum of 20 hours per week, subject to departmental budget and availability of hours.
FOR ENGLISH TUTORS ONLY. Please submit a writing sample of at least three pages and in MLA format along with your application materials. This can be a paper you have submitted for a class, as long as it is a clean copy (no instructor marks, grade, etc).