Summer Elementary Teacher Education Program Page
The cross-disciplinary courses that are part of this AA-T seek to inspire and prepare students, future educators, to teach in urban classrooms, to learn essential professional knowledge including professional teaching standards and ethics, to conduct fieldwork in order to learn how to meet the diverse needs of students and roles of the teacher, and to gain a broad foundation of knowledge across the disciplines that will be necessary for teaching elementary students. Students also develop critical reading, writing, and thinking skills that are pertinent to working in the era of standards-based classroom instruction.
Elementary Teacher Education - Program Brochure
CAREER OPPORTUNITIES
Students who study Education develop skills and knowledge which make them desirable candidates for hire in various positions in the field of education and teaching and beyond. An AA-T in Elementary Teacher Education leads to the Bachelor's degree in Liberal Studies and other related degrees; most Bachelor's degree pathways can lead to enrollment in a teacher credential program at the University. In addition, the Educational Aide I and II Certificates supplement other ADT/AA preparation to develop desirable skills and knowledge of the education field to prepare you for entry into the education workforce.
POTENTIAL JOBS
Start your career as a professional and/or specialist in the areas below!
Careers with an Associate's Degree
Teacher Assistant
Instructional Aide or Educational Aide
After School Program Worker
Tutor
Childcare Worker
Recreation Assistant
Mentor
Careers with a Bachelor's Degree in Liberal Studies or Education
Substitute Teacher
Instructional Designer
After School Program Director
Various careers in business, government, and social service agencies
Policy Analyst
Prepare for graduate studies in law, business, etc.
Training Specialist
Urban Planner/City Manager
Careers with a Teaching Credential and/or Master's Degree
Credentialed Elementary, Middle or High School Teacher
Credentialed Teacher Specialist
TK-12 Administrator, Counselor, or Psychologist
College Professor
Graduate Teaching Assistant
Educational Consultant
Curriculum Designer
Education Policy-Maker and Researcher

Degrees & Certificates
---
Associate in Arts for Transfer (AA-T), Elementary Teacher Education
Elementary Teacher Education (AA-T) Curriculum Guide
View Program Map View College Catalog
---
Certificate of Achievement, Educational Aide I
View Program Map View College Catalog
---
Certificate of Achievement, Educational Aide II
View Program Map View College Catalog
Frequently Asked Questions
What is the difference between the Educational Aide Certificates and the AA-T Degree in Elementary Teacher Education?
While the AA-T prepares students to seamlessly enter University BA Liberal Studies programs and later teacher credentialing programs, it also prepares students with a foundation in the education field and content taught to grade TK-12 students who wish to transfer into other BA programs. The AA-T is an interdisciplinary degree which includes mostly GE coursework. On the other hand, the Educational Aide I and II Certificates offer key coursework from the AA-T with smaller unit requirements in order to supplement other ADT/AA majors. Most AA-T students will earn both certificates en route to their degree, and other majors can also earn them.
Teacher Preparation Program Guide
What programs are offered to future middle/high school (secondary) teachers?
We offer Education courses that can be taken individually to enhance your preparation for the field of education.
Are there any internships, volunteer opportunities, or work-related courses available from the program to receive credits to help with transfer?
Yes, the Reading and Teacher Preparation Department works regularly with university and workforce partners to develop internships, volunteer positions and more. For up-to-date announcements of opportunities as they arise, students are strongly encouraged to ENROLL in the Teacher Preparation Program Student Community Hub on Canvas.
What clearances are required to complete Education fieldwork courses?
To be cleared for fieldwork in public schools, students must
Livescan fingerprint at an approved vendor
Submit a recent negative TB test or TB Risk Assessment
Complete a registration packet including a signed waiver and mandated reporter training by the first week of class.
Students must attend a required orientation before the semester begins or during the first weeks of the semester to learn how to obtain the clearance requirements. Orientation dates are provided online at the teacher preparation website, in the college calendar of events, and are posted on the course LMS page which is accessible upon course registration.
Are there any industry certifications or exams associated with the program?
There are no exams required for the AA-T Elementary Teacher Education or Educational Aid I or II certificates. However, future credentialed teachers and substitute teachers are required to meet a CA Basic Skills Requirement. The CBEST Exam is one way to meet this requirement and is often taken around the time of transfer to the University. LBCC offers CBEST Test Prep workshops each semester.
Where can I find out about events and activities that are offered on and off campus?
Check LBCC College Calendar of upcoming events and the Reading and Teacher Preparation Program's website for the current semester calendar of events for special events and activities. The Future Teachers Club, through Viking Engagement, also hosts regular meetings and events. Complete our INTEREST FORM and ENROLL in the Teacher Preparation Program Student Community Hub on Canvas to get the most current information on events, activities like campus visits, and job announcements.
What professional organizations should I consider joining?

Student California Teachers Association (SCTA), offers low-cost membership to students.

---

Computer-Using Educators (CUE), a CA educational technology organization offers free membership to all.

---
---
---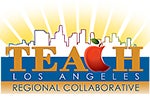 TEACH LA Regional Collaborative – offers free professional development and resources to students in education, child development, and related majors who attend LA County Community Colleges.