World Languages
The World Languages program offers formal transfer requirement courses in Chinese, French, German, Italian, Japanese, and Spanish. The program is designed to teach students to communicate effectively in a foreign language and to appreciate culture; to promote international understanding and exchange; and to provide a pool of students to fill positions in the community.
FOREIGN LANGUAGES - Program Brochure
DEGREES & CERTIFICATES
---
Associate in Art for Transfer (AA-T), Spanish
Associate in Arts (AA), Foreign Languages​
Associate in Arts (AA), Japanese
Certificate of Achievement (ACH), French
Certificate of Achievement (ACH), Japanese
Certificate of Achievement (ACH), Spanish
View all LBCC's Programs of Study and Curriculum Guides
(New students need to refer to the current academic year for the most up-to-date info)
CAREER OPPORTUNITIES
---
Students following the Proficiency Emphasis develop a competency in at least one foreign language, providing an important entry-level skill for those aspiring to work in the international arena as well as preparing for baccalaureate work. The degree would benefit those wishing to enter a variety of industries or business settings that compete in an international market, as well and may prepare students for transfer to a four-year university in a world language program. The degree also offers an added dimension of cultural knowledge and understanding in region(s) where the language is spoken.

POTENTIAL JOBS
---
Elementary School Teachers, Except for Special Education
Foreign Language and Literature Teachers, Postsecondary
Interpreters and Translators
Middle School Teachers, Except for Special and Career/Technical Education
Secondary School Teachers, Except for Special and Career/Technical Education
Travel Guide
Tour Guides and Escorts
SPAN 1 vs. SPAN 9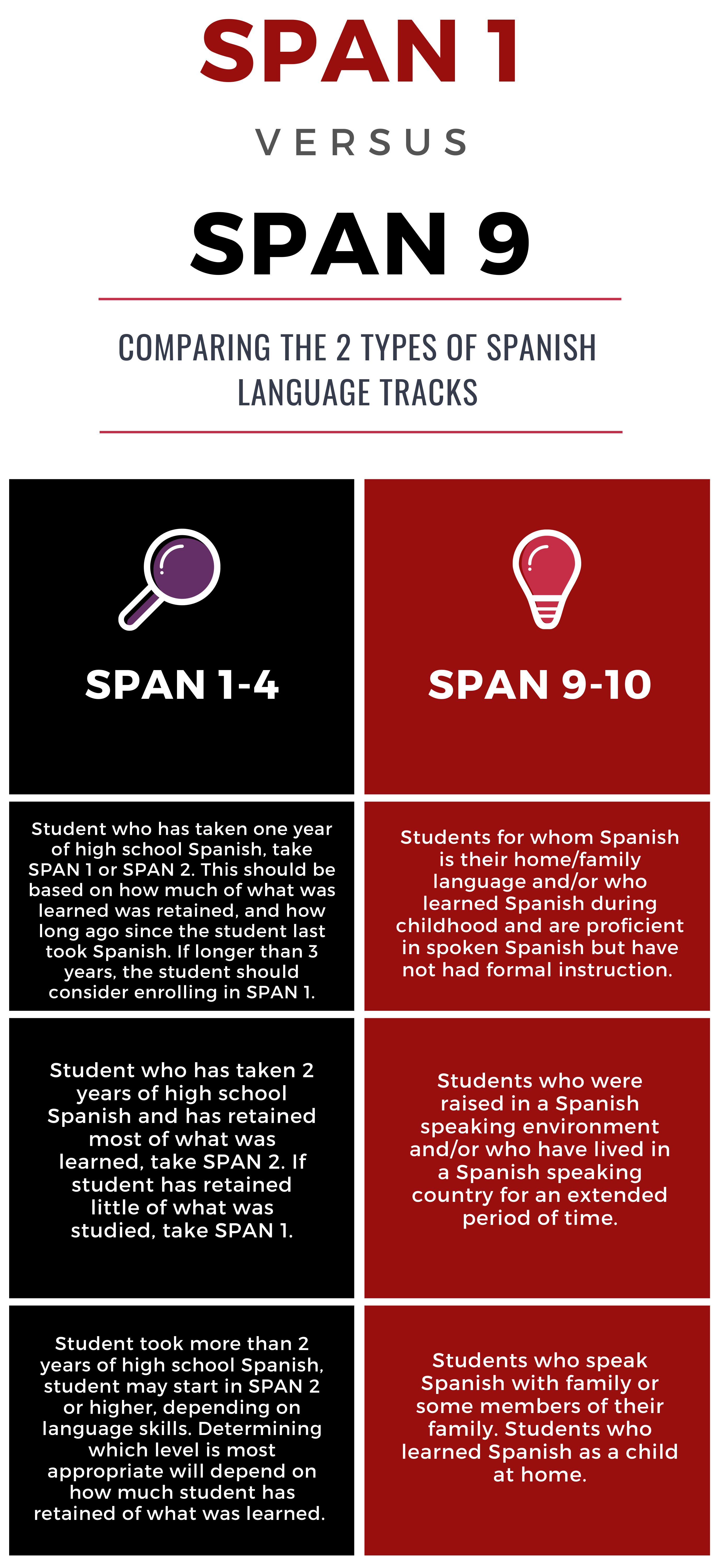 HONORS COURSES
Course Code
Course Name
SPAN 1
Elementary Spanish
(PLAN C ONLY – see counselors for limitations)
SPAN 2
Elementary Spanish
(PLAN C ONLY – see counselors for limitations)
SPAN 9
Spanish for Spanish Speakers
SPAN 10
Spanish for Spanish Speakers/Honors
FAQ
I am interested in taking a language course but don't know what level is best for me. Do you have placement tests?
No
Who should I contact If I'm unsure about which course I should enroll in?
Contact the department chair: (562) 938-4944.
Is there a way to bypass a language level?
Yes. If you believe you should enroll in a higher course level, you can fill out a course challenge form. Course challenge forms can be obtained from your professor or the Department of World Languages.
Do you offer credit by exam?
No
I am a native/heritage Spanish speaker, which Spanish language level course should I enroll in?
SPAN 9
In SPAN 9 students will further develop their reading, writing and speaking skills. This course is an introductory course designed for heritage or native speakers who can speak and understand Spanish but may have difficulty using formal/academic Spanish.
Additionally, students may be able to write some Spanish, but could also have difficulty with word choice, spelling, and accent placement. SPAN 9 will help develop and strengthen (heritage/native) students' existing speaking, reading, and writing skills.
Can I take a course for pass / no pass credit?
Yes Students may change the grading option online via student self-service or by completing and submitting a pass/no pass form in the Enrollment Services Office. This process must be completed prior to the thirty percent point of the course. The deadline can be found in the class schedule. Students are required to do all work assigned and take examinations as though they were receiving letter grades. To receive a grade of pass, a student must do work equivalent to a C grade or higher.
Where can I find tutoring support for world languages courses?
For tutoring support, go to Tutoring Support and follow instructions on the website to find tutoring schedules for the specific language you are studying.
How do I apply for a certificate or a degree in "World Languages" or the respective language I am studying?
While you may have completed all the units towards your degree or certificate, you must still formally apply to receive it and have it credited to your Viking Student Account. The following instructions will walk you through the steps needed to apply for your degree through the Viking Student System. Visit "How to Apply for a Degree or Certificate".
Do you give credit for AP exams?
Please consult with the Department Administrative Assistant or Department Chair for up-to-date information: (562) 938-4944.
Who are the World Languages program counselors and academic advisors?
There aren't department specific counselors. However, below is a list of counselors familiar with the World Languages degrees/programs.
Lani Golay
938-4207
lgolay@lbcc.edu
José Gutiérrez (*Spanish Speaker)
(562) 938-4151
jgutierrez@lbcc.edu
Tamieka Hunter
(562) 938-4219
thunter@lbcc.edu
Philip Huerta
(562) 938-4264
phuerta@lbcc.edu